MY BACKGROUND...
To start off with, I LOVE FOOTBALL!! The only regret I have in life is that I never played football, although I actually did "try" to fullfill my dream when I was a junior in my college days, but thats another story.
You can say I am very "verbal" about my views of the game, but I am also very objective. When I was about 10 years old, I started having an interest in the game. All I have to say is that Roger Staubach was a great role model for a 10 year old, so I stuck with the Dallas Cowboys ever since. Besides, they have won alot of football over the years!
I reside close to Philadelphia, PA. and let me say it has to be the worst city to live near in being a Cowboys fan. I hear it all, and I take it all. I admire their hunger for a winning team, but sometimes it gets down and crazy!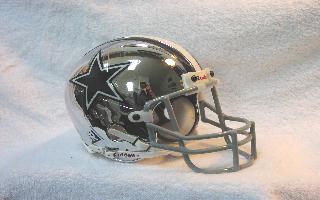 Like I stated earlier, I LOVE FOOTBALL! Dallas will always be in my heart, but I also like other teams. I mean lets face it; if you only routed for one team, it would not be as exciting as if you had other teams to look forward too. You can say I like Tampa Bay along with the Ravens. Some teams I like because of their helmet design.
In particular, I like the Titans design. I'll admit at first I didnt like it, but after awhile it started to wear on me. So you see, I keep an open-mind about players and teams. It only makes it that much more fun to enjoy Sundays!